Top 10 Must-Have Activewear Trends In 2021
Top 10 Must-Have Activewear Trends In 2021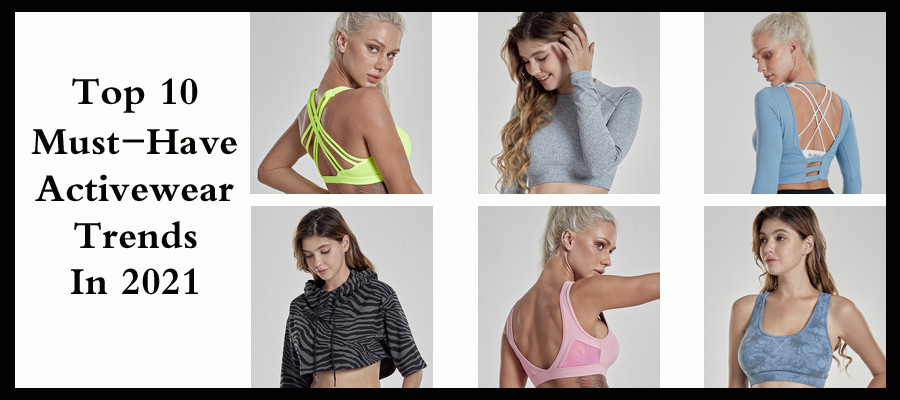 It is time to discuss the development trend of activewear in 2021.
Fengcai
private clothing company
is ready for the new year, new projects and some...new goals. Therefore, next we need to understand the fashion trend of activewear development in 2021.
1. Longline sports bras are increasingly active
Compared with traditional sports bras, longline has a larger coverage area. Its coverage under the breast extends further down to the chest cavity . For women looking for more suitable activewear, it appropriately provides...moderate. With high-waist leggings or jogging pants, it is a good choice for home, studio, gym or street exercise, so it is very popular.
2. By 2021, the sports trend of seamless activewear will become even greater
As we all know, no seams will reduce friction between skins. It is most often associated with leggings and knitted activewear because of its comfort, durability and high cost performance. So you can bet that by 2021, the trend of seamless sportswear will become even greater.
3. Color is still the key to activewear consumption
The fashion search volume for yoga clothing has increased significantly, and the demand for "yoga leggings" in particular has increased by 36% from the previous month. More than 32% of activewear shoppers on Lyst social shopping site choose color when buying yoga clothes. According to online searches, pastel colors, especially light blue, light pink, lavender, beige and white-have gained attention and are often used in "yoga" searches.
In addition, Pantone Color Research Institute and global creative platform shutterstock have released their own color trend forecast for 2021. Bright, soothing natural element colors will be the fashionable color trend in 2021.
4. the rise of hoodies continues
It is not difficult to find that hoodies have become the main leisure element of sportswear. Whether it's a traditional gymnasium or on the street, you can easily find all kinds of hoodies, they are very suitable for sports bras and leggings.
5. Trendy sportswear
Novice women in sports bras and leggings will continue to prefer camouflage, animal prints, prints and other patterns to pursue new things.
6. Super high waist leggings
High waist leggings have already shined in the field of activewear. They provide core support and tummy control. But for some women, this is not enough, they want leggings to have greater coverage. Ultra-high waist leggings have better abdomen function and modify leg shape.
7. The growth trend of high-performance activewear
In 2021, we will continue to see the growth of the high-performance activewear market. Activewear that absorbs sweat and wicks moisture will be even more exciting. Fabrics that inhibit bacterial growth and UV protection will become more and more popular.
8. Personalized T-shirt trends
It is not difficult to find that personalized products are no longer limited to celebrities, influential people and idols. If you have ideas and skills, you can open an e-commerce store to show your personalized design.
9. Biker shorts trend will continue
You have seen celebrities wearing them for many years: the trend of cycling shorts will continue. Whether it is exercise or daily routine, it is super comfortable and easy to match.
10. Work, fitness and home activity wear trends
Due to the impact of the new crown epidemic, the number of employees working from home has gradually increased, and the demand for formal suits and clothing has decreased, turning to casual wear. In addition, people are paying more and more attention to health and fitness, and clothing with work, fitness and home nature will become more and more popular.
Check out the latest popular collections of
activewear private label wholesale
at Fengcai.
Fengcai
can offer OEM & ODM service and make Private label gym wear as per your specific designs and requirement. Similarly, we provide door-to-door transportation services. Contact us quickly Right!