As one of the best custom suppliers of women's sportswear in China, HUCAI provides fast and small batch sportswear sample customization services and excellent sales and production team services for different needs of small B enterprises such as private brands/Internet celebrities/bloggers.

Having the right sportswear is important, and a good sports bra is non-negotiable. Our sports bras are highly breathable and comfortable to wear, providing you with optimal support during your workout. Whether you need low, medium or high support, we can customize it and start shopping for the perfect sports bra here!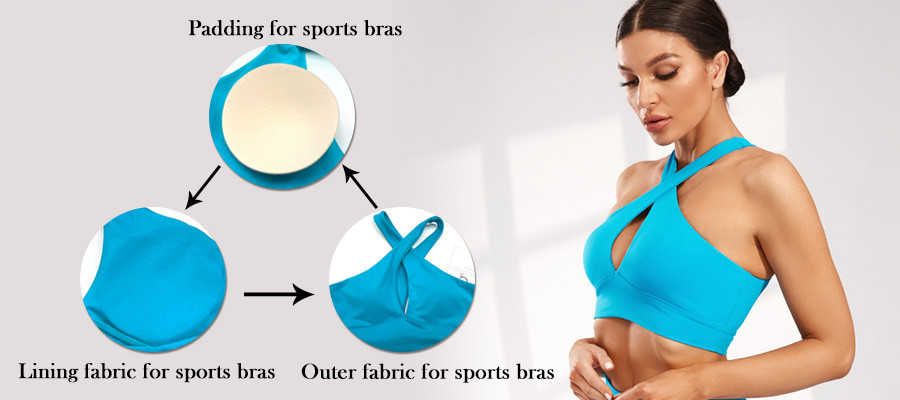 HUCAI women's sports bra composition:
Sports bras are generally divided into three layers of fabric. The inner layer is a soft fabric, usually breathable, sweat-absorbent and anti-bacterial to improve comfort and keep you dry. The outer layer is a fabric with support and anti-elasticity, such as nylon, spandex, etc. In addition to the inner and outer layers of fabric, a middle layer of cup padding is added to improve support and maintain the shape of the bra.
HUCAI supports high quality fabric choices:
HUCAI always selects fabrics with breathable, sweat-absorbing, soft and antibacterial properties for sports bras to improve wearing comfort and to effectively reduce odor and bacterial growth. Our most commonly used sports bra fabrics are 73% polyester+27% spandex, 73% nylon+27% spandex, 75% Nylon+25% Spandex, and the gram weight is generally between 220gsm-260gsm. These fabrics are breathable, sweat-absorbent, waterproof and antibacterial, and feel soft and comfortable, which are suitable for sports occasions.
HUCAI supports customized sports bras:
Welcome to our customized sports bra service! We not only support OEM&ODM services, but also provide professional design services to tailor-make low support, medium support and high support bras to meet your individual needs. You only need to communicate your garment specifications, such as design details, fabric colors, bulk order requirements for different sizes, etc. Let's customize your exclusive sports bra together and add marketing value to your sports brand!
HUCAI offers the best design services:
As one of the most popular suppliers of women's sportswear in the industry, we design cool new styles based on the hot trends in the market. If you don't have a design yet, be sure to contact our design team and we can give you effective suggestions with the market trends, our philosophy is: To be a leader of sportswear manufacturer, create more values for sports brands .
HUCAI is a supplier specializing in the design, customization and production of women's sportswear. Our design team is creative and inspirational, and we believe that our ability to design and master the latest market trends can provide you with the latest design and category solutions that can provide a better boost to your brand value. We welcome inquiries from brands, netizens and fitness bloggers, and we look forward to working with you!
To get free samples or more discounted offers, please do not hesitate to write down your request! We can achieve greater success together!
Please pay attention to the email with the suffix "@hcsportswear.com"or"@fcsportswear.com".