Know About Moisture Wicking Fabrics
Know About Moisture Wicking Fabrics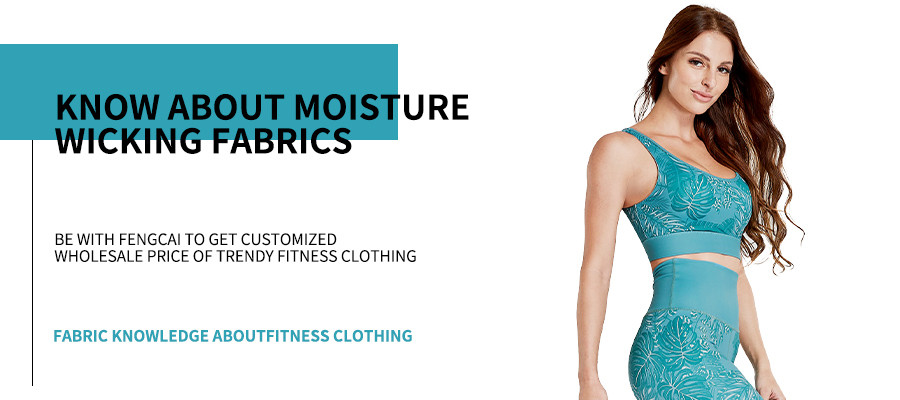 Want to stay dry during exercise? Then we must understand the material of fitness clothing. Fengcai is here to break down the fabric types that should be paid attention to when fitness wear wholesale. Knowledge about moisture wicking fabrics……
1. What is a "moisture wicking" fabric and how does it work?
Moisture wicking fabrics are often referred to as "moisture-absorbing and quick-drying fabrics" or "breathable fabrics". Its fabric surface has many grooves or irritated pores. It uses the principle of capillaries to quickly absorb sweat on the skin surface, and then diffuses and transfers to the outer layer to dissipate, improving the comfort of the underwear and making it dry.
2. Why use "moisture wicking" fabrics for fitness clothes?
The large amount of sweat and heat generated by the bodybuilder during the exercise will cause the extreme temperature and humidity around the body, which is not conducive to the exercise level. Fitness clothing with moisture absorption and sweat wicking function can make sweat through wicking, transmission, and diffusion, quickly migrate to the surface of the fabric and radiate, allowing exercisers to exercise in a comfortable and dry environment, and enhance the exercise effect. It's not very good to use in this way.
3. Can you do some finishing treatment on the cotton to make it have the function of perspiration?
Even if some enhancements are possible, it is difficult to wick cotton sweat. After absorbing sweat, cotton fabrics are difficult to drain, becoming heavy and uncomfortable. Therefore, if you have high requirements for perspiration, it is not recommended that you use cotton fabrics.
4. How to layer the moisture-wicking fabric?
You can follow the steps below to create layers, summer (base layer and middle layer first layer), winter (all)
*Basic layer: Since this layer is close to your skin, it is important to use moisture-wicking tee or water tank to keep your skin dry.
*The first layer of the middle layer: Breathable T-shirt is ideal.
*The second middle layer: wool or warm coat, used to keep warm.
*Outer layer: In the cold and windy winter, choose a waterproof jacket to ensure that the warmth is increased by more than 25 degrees.
If you are interested in using sweat-wicking fitness clothing in your collection, please visit our homepage for more information. We are an active fitness clothing manufacturers located in Dongguan, China. We can produce sportswear of various fabrics for your brand. Send us your technology package so that we can discuss more details!