Gym Essential List : The High Quality Activewear You Must Have
Gym Essential List : The High Quality Activewear You Must Have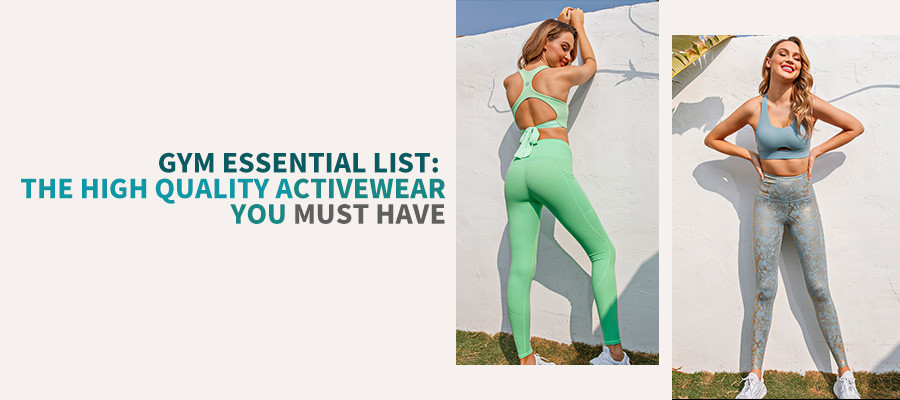 Before you start exercising, you need to be clear: the most important item on the gym list is high quality activewear. A number of studies have shown that best activewear sets can not only change the exerciser's performance, but also improve the exerciser's self-confidence and motivation . When you look good, you feel good.
The question is, which activewear do we need? Fengcai summarized it for you below, I hope it will be helpful to you.
If you are a boy, you can skip this step and go to the next step. For women, a high-quality sports bra is everything. When wearing a high-quality sports bra, you can avoid sagging and various discomforts caused by the breasts not being fixed in place during exercise.
For vests or T-shirts, I suggest that it should have technical qualities of absorbing sweat, wicking moisture, anti-ultraviolet and even anti-odor, and avoid using cotton at all costs. Believe me, if you do, you can stay dry and comfortable even during tough workouts.
Choose fitness shorts with sufficient covering power and provide you with a comfortable elastic waistband. It reduces the risk of muscle soreness, believe it or not.
Finding the right leggings is essential for comfortable workouts and is also an ideal choice for yoga. The best leggings for exercise are light, breathable and airy, with high resilience and durability. In addition, an important point that cannot be ignored is that it must be moisture-wicking.
Business owners, if you want to refurbish the store's product line and add high quality activewear, please contact Fengcai . Browse our collection or customize the works you want for wholesale according to your needs.