How To Choose Gym Clothing For Autumn And Winter?
How To Choose Gym Clothing For Autumn And Winter?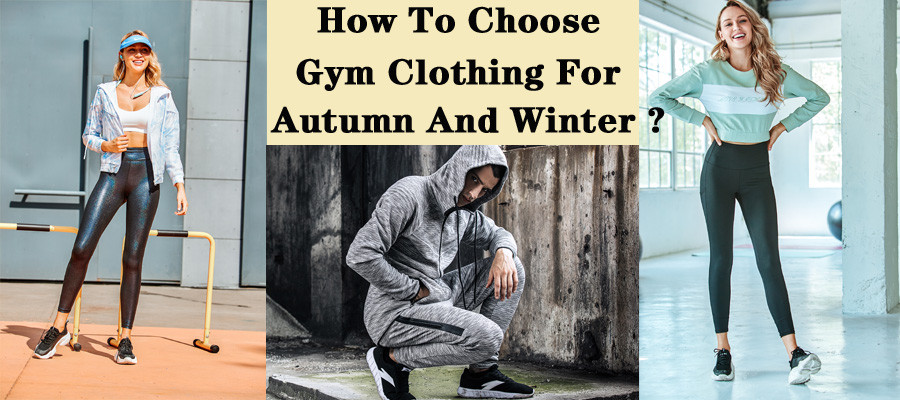 With the advent of autumn and winter, the weather is getting colder, you should change some warm clothes and buy some trendy exercise clothes in order to achieve the best exercise effect in autumn and winter.
In this article, Fengcai has compiled some gym clothing tips for autumn and winter so that you can better cope with the cold weather.
In order to maintain the ideal temperature in autumn and winter, the key to keeping warm during exercise is layering. Layering helps you put on and take off your clothes easily.
l Your first layer should be suitable and comfortable. For example, slim long-sleeved T-shirts, tights or leggings.
l At the top, you should wear a hoodie made of thicker and warmer materials. Add a waterproof jacket on the outside. It should be made of synthetic materials (such as polypropylene, nylon), which can protect you from wind, rain and snow. At the bottom, you can wear jogging pants or some casual sports pants.
l If your body can resist the cold well, then you only need a sweatshirt as the middle layer. If you can't, you can add a warm vest in the middle, which can keep your torso warm, and at the same time your arms are unrestricted, and you can move better.
When you exercise, blood always collects in your core and your limbs will become very cold. Especially your feet and toes, so you need to add a hat, wear a scarf, and warm up with warm socks in advance. These body parts, which are often affected by temperature changes, keep you warm while allowing you to focus on exercising.
3. Choose moisture-wicking clothes for exercise
Remember, no matter the temperature, you can still sweat easily during exercise. You don't want to wet your clothes as soon as you sweat. Therefore, you need gym clothes with sweat-wicking fabric to help you stay dry and comfortable during your workout. Such clothing is usually made of synthetic materials such as polyester.
Favorite:
l Sports bras: Fengcai brings together a variety of sports bras made of polyester spandex and other materials, which can wick away sweat and dry quickly. In addition, it also provides excellent comfort and support.
l Tank top : Its quick-drying functional fabric can keep bodybuilders cool and dry during exercise and enjoy exercise.
l Leggings: At Fengcai gym wear manufacturer, you can find a variety of tights suitable for various sports activities. The sweat-wicking fabric makes them light and breathable. Whether it is worn in summer or autumn and winter, it is enough to deal with.
If you are running or exercising in the dark, make sure you can be seen by others. When choosing exercise clothes for autumn and winter, you can consider ones with reflective strips. In the dark, the reflective strips will reflect light and shine, playing a role of safety and prevention.
5. Appropriate gym clothes will make your workout more effective
Different fitness clothes are suitable for different exercise occasions. Remember, don't let your dress hinder your exercise. Here are a few tips:
l If you want to engage in yoga and pilates activities, wicking, moisture-absorbing, fit and elastic fabrics are your ideal choice.
l If you want to run or ride a bicycle, please avoid loose pants to prevent tripping or tangling.
It's time to summarize, the correct dressing of gym clothing in autumn and winter plays an important role in the effect of exercise. If you plan to add gym clothes wholesale for women to your store, please contact the leading gym wear manufacturer Fengcai and put forward your ideas! Please keep in touch!