Workout Clothes: 3 Tips On How To Sell More Products To Exerciser
Workout Clothes :3 Tips On How To Sell More Products To Exerciser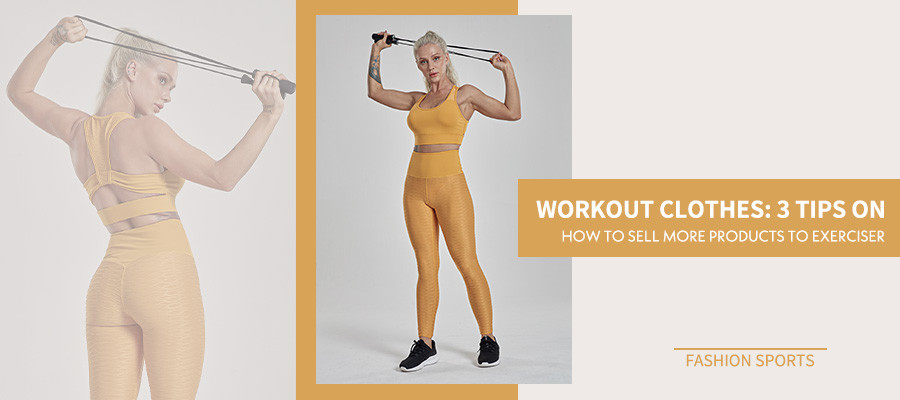 It is not difficult to find a phenomenon: more and more clothing brands are combining fashion and workout , presenting them to those fitness exercisers in the form of universal clothing. According to the forecast of Alied Market Research, the global sportswear market will reach US$546.802 billion by 2024. The market competition will become increasingly fierce, so
Fengcai
has prepared 3 suggestions for selling workout clothes, hoping that you can stand out from the competition.
Tip 1: Custom workout clothes
*Design and customize according to your customer needs. Trust me, this will be what your customers like.
*Don't limit the types of sportswear to traditional ones. Consumers must be eager to buy products with both fashion style and high functionality.
*Keep in mind the strong cultural enthusiasm of the customer base to select and market your products. For example: provide printed yoga pants for yoga lovers, a complete swimwear series such as bikinis for swimmers, and a selection of sizes for large-size customers, etc.
Tip2: Invest in visual and influencer marketing
Nothing can present a product better than beautiful photos and professional videos. Consumer consumption is affected by visual effects, so you need to invest heavily in visual products. E.g:
a. Put your products in the gym, outdoors, beach or running track.
b. Show the versatility of the product-take some product photos in public or at home and upload them to social platforms
c. You have to choose sincere-professional models, who represent your actual consumer groups and will make your product line more authentic.
d. Promote the use of online celebrity marketing strategies. Through their recognition, promotion or simple use of your products can increase your brand influence and attract more followers to buy products.
Tip 3: Seasonal discounts
The best way to increase sales is to maintain seasonal limited time discounts and promote offers on social platforms (Instagram, Facebook, Twitter) through paid advertising. These offers will attract more buyers to buy, even if they may not use them now. In addition, using the latest and best promotional forums can also help you increase sales and make more profits.
Hope the above tips can help you. However, before starting these businesses, you need to find a manufacturer to customize and wholesale
good quality workout clothes
. Do you want to buy
workout clothes wholesale
for your store? Please contact us, we will do our best to help you.