Advantages of Dry Fit T Shirts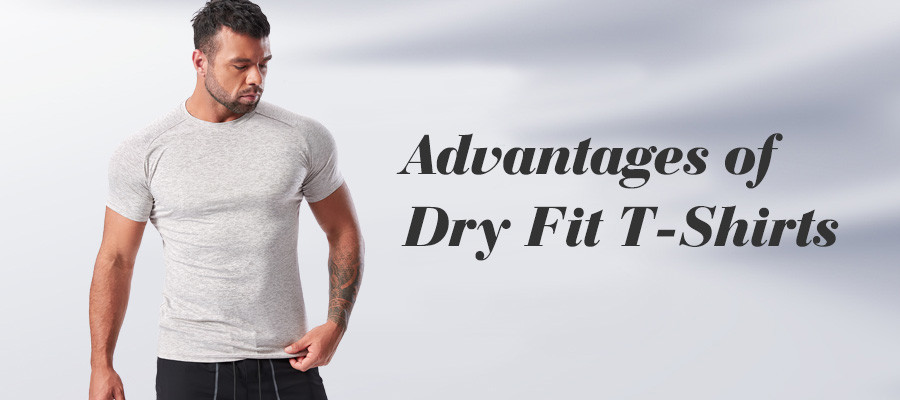 In recent years, fitness has become all the rage, and as fitness has become popular, dry fit t-shirts have been introduced. So do you know what dry fit is? Do you know what its function is? There are many benefits to wearing a dry fit t-shirt for exercise and the dry fit t-shirt is also a popular style in the sportswear series.
Dri-FIT's unique high-performance microfiber structure supports the body's natural cooling system, drawing sweat away and dispersing it across the fabric surface, allowing it to evaporate faster. Dri-FIT clothing is most effective as a base layer or on its own -- direct contact with your body means you'll stay drier.
Moisture absorption and perspiration
Moisture wicking is the best part of the dry fit t-shirt. It always keeps you dry, no matter how hard you exercise. It not only absorbs moisture, but also evaporates it. This way you will feel very comfortable during your exercise.
Improve the efficiency of your exercise
Dry fit t-shirts are usually made of synthetic and lightweight materials so that we feel more flexible and move more easily when we exercise. Dri-Fit shirts are made through different weaving techniques with other synthetic materials for durability.
Comfortable on your skin
The fabric of the dry fit t-shirt is very soft, so you will feel very comfortable when you wear it. The dry fit t-shirt is designed to make you feel comfortable when you are exercising.
Daily Wear
The dry fit t-shirt can be worn not only during sports, but also for everyday wear. It is because of its comfort and breathability, more and more people will wear dry fit t-shirts when going out in the hot weather!
Is there a suitable dry fit t-shirt?
In the following I will recommend a few dry fit t-shirts, are our own production, the quality is guaranteed, you can click in to see.
Now do you know what are the benefits of dry fit t-shirt? Are you looking for a manufacturer who makes dry fit t-shirt?If you are looking for a manufacturer that makes high quality dry fit t-shirt.The fabrics we use are of the highest quality.We are a wholesaler of sportswear located in China and have more than 20 years of experience in producing sportswear with rich experience and technology. We support customized services.We have quality control for every production process.For more information,please contact us!
Contact information:
E-mail: admin@hcsportswear.com
+8613602338395