What is the best sportswear supplier that offers the best shipping time from China to the US?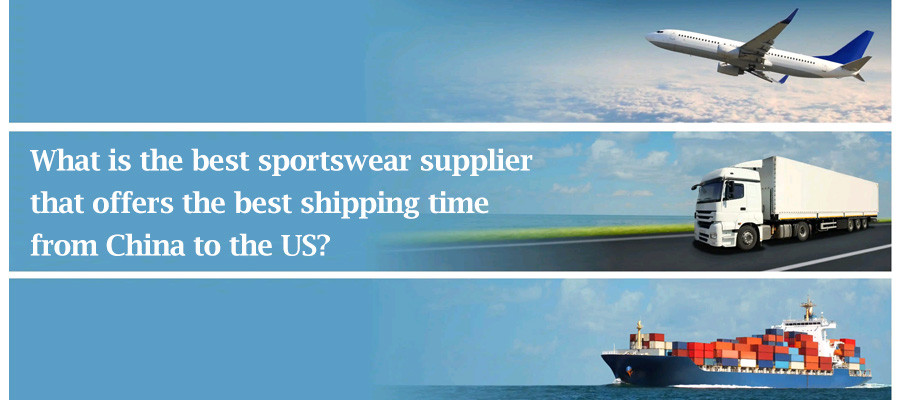 What is the best sportswear supplier that offers the best shipping time from China to the US?
The best time to sell is one of the necessary factors to master the code of sales flow and achieve maximum sales value. I'm sure you've also been concerned about when you should make a purchase order to best combine the manufacturing time of a women's sportswear supplier, the time to ship goods, and the best time to sell to achieve the best benefit value?
Are you also thinking about the pros and cons of this? If you happen to want to get the value of making a big sale, then I suggest finding a ladies sportswear supplier that can offer the best shipping time for shipping from China to the US is very essential.
1. Logistics Model
Generally speaking, for women's sportswear made in Chinese factories to be shipped to the US, express and ocean shipping are the most used logistics modes. Like HUCAI, which is a ladies sportswear supplier focusing on foreign trade industry for more than 20 years, for the sportswear orders in the United States, the express mode is generally cooperating with Fedex, which takes 5-7 days of transportation time, and the sea mode is generally cooperating with MATSON, which takes 18-25 days of time.
2. Logistics price
Logistics costs as low as possible, then the more you can get greater value gains. Fast mode is relatively high price compared to sea mode, like Fedex, which HUCAI cooperates with, the transportation to the United States is about 50RMB/KG, while sea mode only needs about 20RMG/KG. Therefore, we do suggest our customers to plan their peak sales period and use the logistics mode reasonably, so as to get the sportswear before the best sales time.
HUCAI always requires logistics companies to give a variety of shipping options and make sure that the logistics is arrived according to the time of the guests. If you are not sure when you should make your purchase order, HUCAI can help you. We can advise you on the best time to schedule your order, taking into account your order quantity and purchase time requirements, and we can provide you with the best shipping time from China to the U.S. so that you do not miss the best sales rush.
Now is just the right time for sample orders to be purchased, placing a sample order now is enough time for you to confirm the quality and sizing of your women's sportswear, please contact us to send your custom request!
Contact information:
INS:hucaisportswear
F
ACEBOOK
:
Hucai Sportswear Manufacturer
Email: admin@hcsportswear.com
Whatsapp:+8613602338395