When a sports brand grows, what kind of supplier will be more responsive?
When a sports brand grows, what kind of supplier will be more responsive?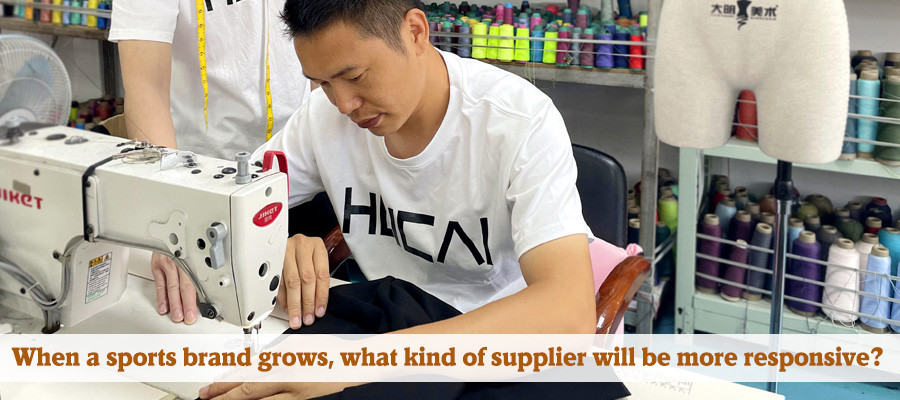 When a sports brand grows to a certain level, the brand's growing needs will change, then there is bound to be out of sync with the supplier. The following factors can help determine the best choice of supplier to work with:
1. high quality and innovation:
suppliers should have the ability to provide high quality materials and innovative technology to ensure product performance, durability and comfort. hucai is a supplier serving the mid-range and high-end sportswear market, with high quality product production requirements.
2. Production capacity and on-time delivery:
Suppliers need to have sufficient production capacity to meet the brand's needs and ensure on-time delivery of products.HUCAI's production time for samples is about 15 days, and the production time for large shipments is about 35 days.
3. Cooperative attitude and flexibility:
suppliers should have a positive cooperative attitude and be able to work with brands to solve problems and adapt to changes in market demand. HUCAI is very much looking forward to cooperating with high-end brands, and is able to adapt to the production of products according to the brand's specific time requirements.
4. Supply Chain Transparency:
Suppliers should provide transparency in their supply chain, including information on raw material sources, processing, etc. to ensure that products meet the requirements and standards of the brand, and HUCAI has worked with long-time fabric suppliers, accessory suppliers, and logistic suppliers, all of which are very experienced.
5. Ethical business and social responsibility:
Suppliers should comply with ethical business practices, including human rights, labor rights and environmental protection standards, to ensure that the cooperation between the brand and the supplier is in line with social responsibility.
To summarize, when a sports brand has reached a certain level of development, the best choice to work with suppliers should be those companies with high quality, innovation, flexibility and ethical operation. And I believe that HUCAI is your best choice, to get a lot of information about apparel production please click here to get it!