As one of the best custom suppliers of men's sportswear in China, HUCAI provides fast and small batch sportswear sample customization services and excellent sales and production team services for different needs of small B enterprises such as private brands/Internet celebrities/bloggers.

Whether you need running tights, athletic leggings, yoga pants or sports tights, we have it for you. Here you will find different styles and colors, high waisted models, sub low pressure, patterned and monochrome. Custom designed styles offer the best fit and quality to keep you comfortable from start to finish during your workout.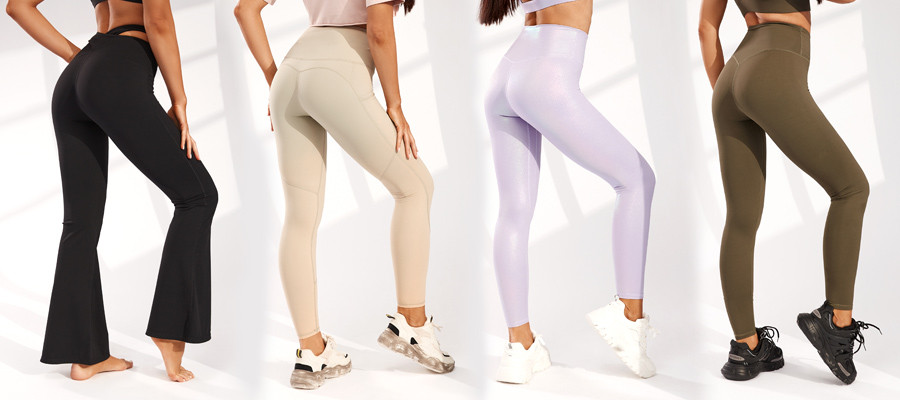 HUCAI offers a wide variety of leggings:
As a leading manufacturer of women's workout pants, we have a huge variety of designs. Our collection is stunning and impressive, showcasing the latest trends in the fitness fashion industry. Blank leggings, capris, yoga pants, tights and fitness trousers are all a part of our stunning catalog. The practical design and functionality of the leggings are complemented by a bright combination of shades. From subtle undertones to vibrant hues, you can shop our catalog.
HUCAI supports a high quality fabric selection:
Fitness leggings are made from premium materials that are soft to the touch, while also offering a range of functional properties that wick moisture away from the body and promote breathability. Our most commonly used sports bra fabrics are 73% polyester + 27% spandex, 73% nylon + 27% spandex, and 75% Nylon + 25% Spandex, with a typical gram weight of between 220gsm-260gsm. These fabrics are breathable, sweat-absorbent, waterproof and antibacterial, and feel soft and comfortable, which are very suitable for sports occasions.
HUCAI supports custom yoga pants:
Welcome to our customized sports yoga pants service! We not only support OEM&ODM services, but also provide professional design services to customize your yoga pants in low, medium and high pressure to meet your individual branding needs. You only need to communicate your garment specifications, such as design details, fabric colors, bulk order requirements for different sizes, etc. Let's customize your exclusive sports bra together and add marketing value to your sports brand!
HUCAI offers the best design services:
As one of the most popular suppliers of women's sportswear in the industry, we design cool new styles based on the hot trends in the market. If you don't have a design yet, be sure to contact our design team and we can give you effective suggestions incorporating market trends, our philosophy is: To be a leader of sportswear manufacturer, create more values for sports brands!
HUCAI is a supplier specializing in the design, customization and production of women's sportswear. Our design team is creative and inspirational, and we believe that our ability to design and master the latest market trends can provide you with the latest design and category solutions that can provide a better boost to your brand value. We welcome inquiries from brands, netizens and fitness bloggers, and we look forward to working with you!
To get free samples or more discounted offers, please do not hesitate to write down your request! We can achieve greater success together!
Please pay attention to the email with the suffix "@hcsportswear.com"or"@fcsportswear.com".