How About The Sample Making Details Of Your Factory?
How About The Sample Making Details Of Your Factory?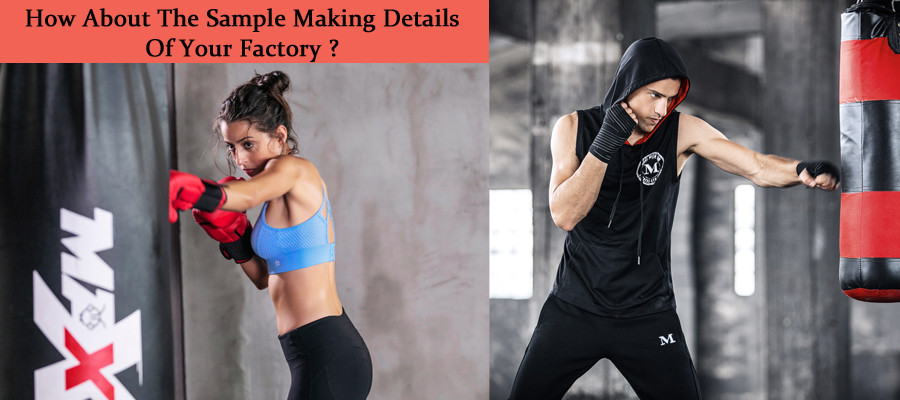 1. How do I get samples from your factory?
You can look for designs from our catalog or put forward your ideas or technical solutions so that we can customize your design.
l Website: www.fcgymwear.com
l E-mail: info@gdfengcai.com.cn
l Whatsapp: 86 13719141362PP: 86 13719141362

l Ins: instagram.com/lena_lius/
l Facebook: https://www.facebook.com/jean.yuan.585/grid?lst=100050298764199%3A100050298764199%3A1600670074&subkey=manage
l Twitter: https://twitter.com/FengCaiFitness
l Youtube : https://www.youtube.com/watch?v=a10SLfv1_q8&t=1s
2. Can I customize the design of my workout clothes?
You can completely custom gym wear , including design, color, logo, size and various accessories. You can even choose fabrics according to your needs. If customers need to develop new fabrics, we will try our best to help find them.
3. How about your sample cost?
Samples need to be charged, and the cost depends on the specific design, please contact us.
4. What are the specific steps for making your samples? how long it takes?
The specific steps for making samples are as follows:
A. Confirm design, size, logo.
B. Choose the fabric. Photo color card or send color card to confirm fabric and color.
C. Make patterns. If necessary, customers can provide their own detailed dimensions.
D. Buy cloth. Customers can request to confirm the pattern cloth.
E. Cut the fabric and print or embroider.
F. After the printed or embroidered piece
comes back, please take a photo for confirmation.
G. After taking pictures, sew the samples and send them out to confirm that they are correct.
It takes about 12-15 days.
5. Why does the sample fail to meet my expectations?
In fact, apart from the design, this may be because you did not choose the right fabric. Different types of fabrics usually have different characteristics and show different effects.
This is the detailed information fitness clothing fabric:
l Polyester: It is a synthetic material with high strength and elastic recovery ability. At the same time, it is smooth, durable, does not shrink, and can maintain its shape for a long time. But it has poor hygroscopicity, low water absorption, and easy to absorb dust.
l Nylon: Compared with polyester, it is durable, smoother, stronger and more wear-resistant. Lower hygroscopicity means its drying speed is super fast. But it has poor low temperature resistance and poor heat resistance.
l Lycra: Lycra material is usually mixed with spandex, which has high elasticity, and is mixed with other synthetic fabrics to provide support and shape. Good resilience is its biggest advantage, and it is often used in gym clothes, swimwear and underwear.
l Supplex: Breathable, quick-drying, durable and durable, and has excellent color preservation. It is a good fabric very suitable for outdoor sports.
lBamboo fiber/Modal: If you want to wear super soft and moisture-wicking gymwear, please consider it. In addition, it also provides excellent UV protection, good gloss and drape.

l Cotton: Compared with other fabrics, cotton still has a big gap in terms of quick sweat absorption. But its better smell and breathability still won people's appreciation. But it can cause bruises and even lower body temperature in winter. If cotton is not mixed with other fibers, it is not an ideal choice for exercise clothing.
6. What if I don't like samples?
If we do not follow your request, we will redo the sample. However, if there is a problem with the size, design or other aspects provided by the customer, we will also help to correct it.
Business owners, are you looking for a fitness apparel manufacturer that suits your brand? Visit Fengcai. Come from one of the high-quality gymwear manufacturers in China, put forward your ideas, and we will serve you wholeheartedly.