What to look for when searching for a clothing manufacturer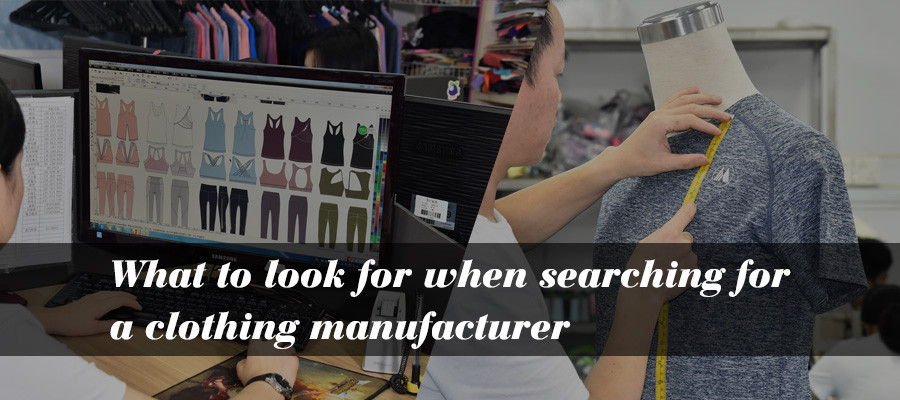 Having problems finding a manufacturer during the start of your personal sports brand? Do you know what to look for in a manufacturer? A good manufacturer can greatly influence the sales of your product. If you are just starting your business, it is important to know whether working with a clothing manufacturer can be a risk financially or in terms of your time. Of course, there can also be great rewards. But make sure you weigh up your options before making a decision.
1. When looking for a clothing manufacturer, you should first focus on its price and quality. Choose a manufacturer that can match your current funding. You also need to make sure that the manufacturer you choose can produce the clothing products you want. Some garments require special fabrics and you need to know if they can supply them. It is best to work with a manufacturer who has a lot of experience in garments.
2. You need to know their MOQ. MOQ refers to minimum order quantity. Before working with a manufacturer, you need to make sure you have a starting order quantity. You are not sure if you can sell it all or you will be left with stock that is difficult to move.
3. You need to know how much the manufacturer you are working with is producing. Can they replenish your stock in a timely manner? Do they have the ability to make adjustments in a timely manner. You also need to look at their turnaround times as well as delivery times.
4. What are their quality standards? You need to make sure that the manufacturers you work with are producing to standards. You can ask if their products have passed quality checks. BTW, you also need to know their shipping costs and times, and whether there are any additional charges?
5. Ideally, we always recommend that you visit the garment manufacturer so that you can review their processes. We know this isn't always possible, but if you can, please ask the garment manufacturer if they are accessible before ordering any products. This way you can get a true impression of the manufacturer.
Fc gymwear is a clothing and sports manufacturer based in China. We have been in the sportswear industry for over twenty years and have extensive experience in producing sportswear that can be customized to meet your needs. The products we produce go through a quality control process. We export more than 100,000pcs of products every month. We have our own factory with an area of 5000 square meters. we can provide sample for you to check our quality before you place your order.For more information,please contact us!
Contact information:
E-mail: admin@hcsportswear.com
+8613602338395